Biography
Claude de Soria
Sculptor
(Paris, 1926-2015)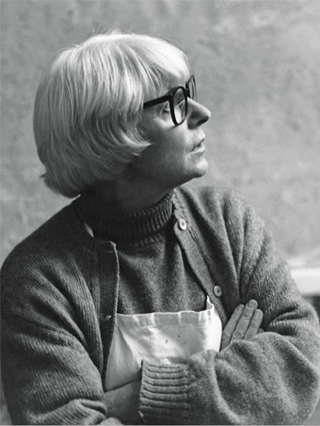 The outbreak of the Second World War interrupted the settled course of Claude de Soria's early schooling in Paris. Taking refuge in the Free Zone of the south of France, she eventually crossed over to Tunisia, where she completed her secondary education in Sidi Bou Saïd before returning.
Passionate about art, she took André Lhote's drawing course at the Académie de la Grande Chaumière then in 1950, studied under Fernand Léger, before being taught sculpture by Ossip Zadkine from 1952.
Claude de Soria spent the ensuing years visiting the concert halls and museums of France, as well as travelling through Spain and Italy. The drawings in her notebooks provide a trace of her impressions of those years, as they do for every period since childhood, sketches of the Palio in Siena and the Feria in Cordoba, as well as detailed studies of stone chapter carvings and paintings that show a particularly sensitive touch. Her interest in the works of Pisano and Michelangelo dates back to this period and the notebooks are littered with quickly sketched portraits from life, page after page showing likenesses of Paul Paray, Alfred Cortot, Jacques Thibaud and many others.
In 1953, Claude de Soria married and moved away from Paris. During her years away, she works in clay. Upon her return, her inspiration turns increasingly abstract, drawing on fruits and flowers… and also the work of artists she admires: a Picasso exhibition at the Grand and Petit Palais in 1966 ; a Degottex show in 1967 ; and Hantaï at the Galerie Fournier in 1968, not forgetting Giacometti at the Orangerie in 1969, Matisse at the Grand Palais in 1970 and Rodin's Burghers of Calais. In 1972, a trip to the Sahara provokes an inner earthquake as she discovers naturally carved stone, leading to a period of unsettlement.

A bag of cement forgotten by workmen in the yard outside her studio in 1973 determines the course of the rest of her life. Instantly, she understands all that this volatile, malleable material that is so easy to mix and mould can do and she starts experimenting with different dosages and qualities of cement powder, sand, fibre, water. Different structures are tried and all sorts of moulds and bases: glass, celluloid-based plastic, fabric, paper… that in turn generate a wide variety of forms: circles, squares, rectangles, spheres, cylinders… with an emphasis on chance occurrence. "I try, by adopting an attitude of vigilant expectancy, of availability and floating awareness not to miss any finding of chance…" As an artist, De Soria calls it chance, but really what is at issue is a minute attention to her material, within the context of a specific practice, according which art is designated as a form of research and ever up for reassessment. The result is a companionable journey, between an artist and her material, aimless perhaps, except in so far as the exhaustion of every possibility can constitute an aim, but with a strong drive towards to marching on and exploring, towards enjoying the present landscape and waiting with feverish enthusiasm, for the view round the next corner.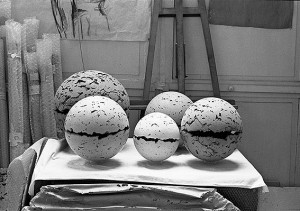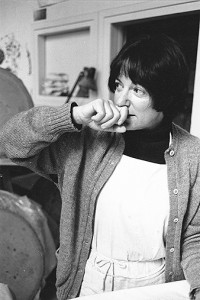 ---